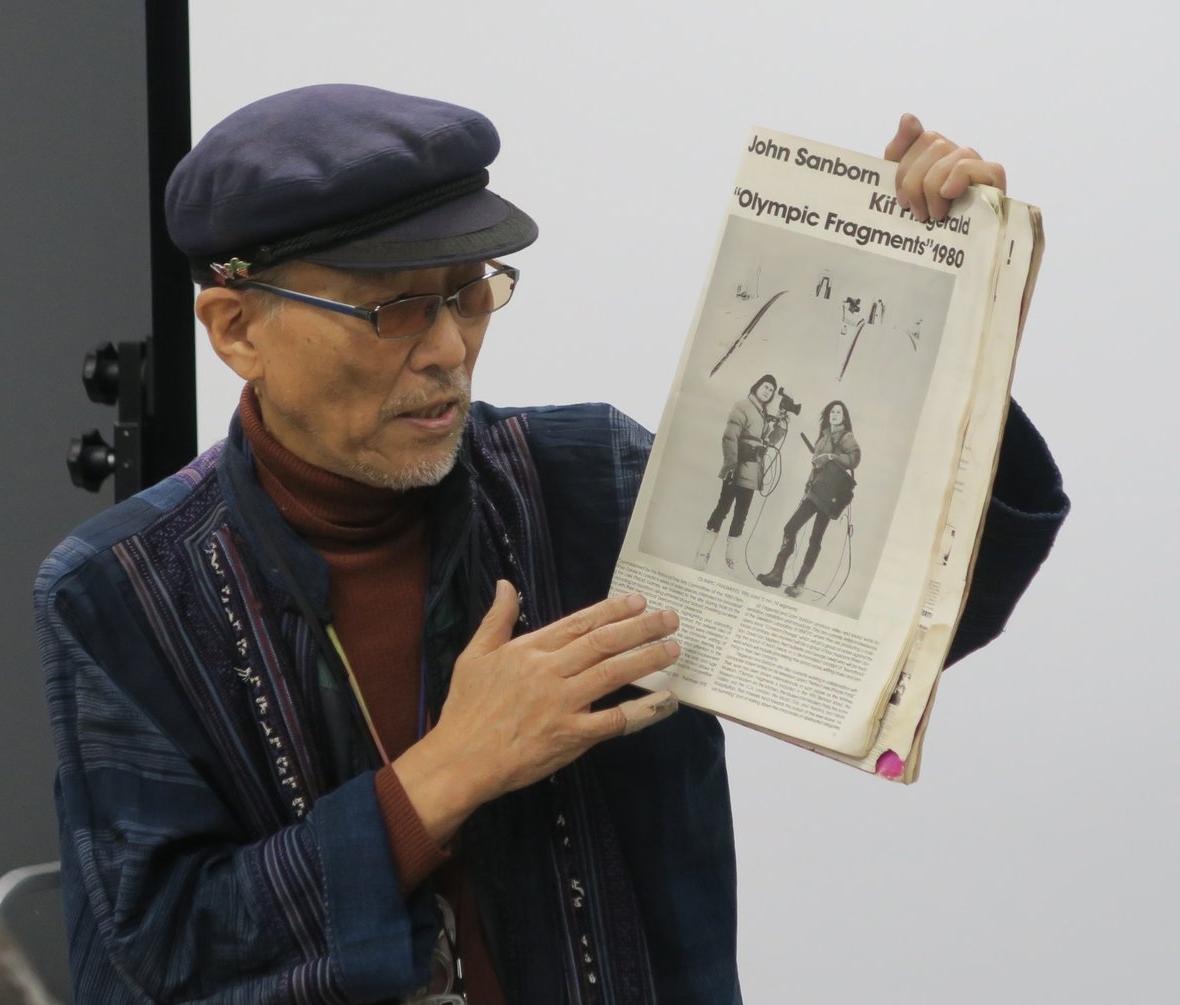 List of Works: Ko Nakajima
Ko nakajima
description of WORKS
These descriptions are compiled by Hirofumi Sakamoto from his interview during the 2018 Collection Survey, and have been reviewed by Sen Uesaki and Ann Adachi-Tasch. Translation into English by Taro Masushio.
1:Anapoko / 穴ポコ|1963, 7 min, 16mm film, color, sound
After graduating from Tama University of Arts, Nakajima made this work with the intention of submitting to the Sogetsu Animation Festival. Without much funding to work with, Nakajima devised the technique "Kaki-mation," a method of drawing directly on 35mm film. At this time, he frequented Studio Zero—the formative mainstream animation / cartoon production company of the period with members Shinichi Suzuki, Jiro Tsunoda, Fujiko Fujio, and others.
多摩美卒業後、草月アニメーションフェスティバルに出品しようと思い制作したアニメーション。お金がないので、35ミリフィルムに直接描く「カキメーション」を発案した。この頃は、たまたまアニメーションを制作しただけで、自分がアニメーション作家であるという意識はなかった。鈴木伸一と知り合いだったのでスタジオゼロに遊びに行って、その時に相原信洋と出会った。
2:Seizoki / 精造機 |1964, 4 min, 16mm film, color, sound
This is an animation using the "Kaki-mation" technique. This piece can be shown as a multiscreen piece with 3 screens.
「カキメーション」の手法によるアニメーション。この作品は3マルチ・スクリーンでも上映可能。
3:Horizon / 水平線 | 1971, 7:30 min
This work was created to commemorate the reversion of Okinawa to Japan.
海岸にて、ヌードモデルを撮影した作品。
4:Biological Cycle / 生物学的サイクル|1971-1982, film and video, color, sound
The series, based on the first 16mm film that was shot in a studio with Nakajima's family and birds, moves through media and processing transformations over many iterations over the years. Once transferred to video, digital effects were added using the "Animaker," an electronic image synthesizer that he invented (also nicknamed "Ko-puter"). Total of 6 parts exist.
作家の家族や鳥をスタジオで撮影した16mmフィルムを最初のNo.1として、ナンバーが進むごとに、エフェクトを加算してゆく作品。途中からメディアがビデオに変わり、「アニメーカー」によるデジタルエフェクトも導入されてゆく。
5:My Life / マイ・ライフ|1974-, video, sound
This work was started in 1967 as a documentation of Nakajima's life. The footages were edited to comprise a piece for the first time in 1974, in time to show the work to the curator Barbara London, who was visiting Japan. Generations in his family were passed on that year, with Nakajima's mother passing away, and then his child was born. The piece is an installation with two monitors; the left presents his mother and himself, and the right, his child and himself. Nakajima continues to work on the sequels of "My Life" with his grandchild.
1967年から撮影を開始していたが、最初に作品としてまとめられたのは1974年。その時、バーバラ・ロンドンが来日することもあり、作品として編集することにした。1974年は母親が死に、子どもが生まれ、世代が入れ替わった年でもあった。基本的に左モニター(母親と自分)と右モニター(子どもと自分)の、2つのモニターによるインスタレーション展示。その後、孫が登場する『マイ・ライフ』の続編を作っており、今後は左モニター(子どもと自分)と右モニター(孫)という形でスライドして、「母親と自分」のパートはフェードアウトしてゆく予定。まだ50年しか経っておらず、完成は100年後になるだろう。
6: Under a Bridge / 橋の下から | 1974, 13 min, video, b/w, sound
Under A Bridge documents an interview of a locally known man who lives under a bridge. The documentation was later broadcast on Video Earth Tokyo's affiliated cable television network. Initially showing anger and frustration to the Video Earth members, the man gradually opens to the collective members, ultimately sharing personal stories about his life.
ビデオアース東京としての作品。橋の下に住んでいたホームレスへのインタビュー。
7:[A graveyard and beggar] / 墓地と乞食|1975
A work of Video Earth Tokyo, it is an interview with a homeless who lived in the Aoyama cemetery. Photography by Michael Goldberg.
ビデオアース東京としての作品。青山墓地に住んでいたホームレスへのインタビュー。マイケル・ゴールドバークが撮影。
8:Shinkansen Researching Foods / 新幹線研究食|1975, 10 min, video
A work of Video Earth Tokyo. Carrying in the rice cooker to the Shinkansen (express train), the group cooked rice between Tokyo and Nagoya. As the train arrives, they started to have a dinner party on the platform.
ビデオアース東京としての作品。新幹線の車内で食卓を広げて食事をする。
9:What is Photography? / 写真とは何か?|1976, video
This piece considers the relationship of looking and being looked at. It is a two-channel installation piece on monitors. One monitor shows a video of a group of naked men photographing a nude model sitting on a table. The other monitor presents the still pictures taken by the men.
見ると見られるが相対化される作品。2つのモニターによるインスタレーション展示。片方のモニターには、スタジオ内で裸のカメラマンが、ヌードモデルを写真撮影している映像を映す。もう片方のモニターには、その時撮影された写真を静止画像で映す。
10: Tantra / タントラ | 1980, video
This is a computer graphic piece made at Osaka University.
大阪大学で制作されたコンピュータグラフィック作品。
11:Mont Fuji / 富士山|1984
Nakajima took interest in the photographs of Mount Fuji taken by Kurayama Saito, who had been documenting Mt. Fuji for decades. Eventually, Nakajima ended up pitching a project based on the photographs to Nikkatsu (Japanese entertainment company), which led to producing a video piece. In the mid-80s, environmental video was in trend and they were able to secure large funding to produce the work.
斎藤庫山という人物が富士山の写真を何十年も撮っていて、それを持ってきた。それを中島さんが面白いと思って、スポーツ新聞に売り込んだ。すると日活に企画を持ち込むことになり、映像作品として制作することになった。当時は環境ビデオが流行していた。莫大な予算をかけて、イマジカのシステムを使用してエフェクト加工を行った。
12: Dolmen / ドルメン | 1987, video
A work produced in Brittany, France, with funding from the French government and employing local CG artists, the main subject is the Stonehenge.
フランスのブルターニュで制作した、ストーンヘンジを題材とした作品。CGのパートは、現地のCGアーティストを起用した。スポンサーはフランス政府。
13: Rangitoto / ランゲトート|1988, 16:30 min, video
A sequel to Dolmen, the work features Rangitoto, a volcano in New Zealand that resembles Mount Fuji. Produced in New Zealand, the project was funded by a local television station.
『ドルメン』の連作である、ニュージランドで制作した作品。スポンサーは現地のテレビ局。
14 Esprits de Sel / 塩のエスプリ | 1990, 13:20 min, video
This work features the salt marshes of Montpellier France, and uses computer graphics to create fantastical imagery.
フランスのモンテリエの塩田を題材とした作品。CGのパートもある幻想的な表現。
15: Hindu Spirit / ヒンズースピリット | 2001, video
This is piece was filmed in India, and is still in production.
インドで撮影した作品で、いまも制作中。
16: Dance of the Dead / 死者の舞 | 2014-, 15 min, video
Made at the sites of the Great East Japan Earthquake of 2011, this work is a collaboration with Butoh danceter Takumi Harada. The work is currently still in production.
福島の被災地でパフォーマーを撮影した作品で、いまも制作中。
17:[Wheelchair Stands at Fuji] / 車椅子富士に立つ|1978
A work of Video Earth Tokyo, the piece documents a person on a wheelchair climbing Mount Fuji.
足の不自由な障害者が車椅子を使って富士山を登るというプロジェクトを、ビデオアース東京として撮影。車椅子(かたつむり二世号)の製作段階からはじまり、登頂するまでを、同行しながら撮影。作品としての発表はしていない。
18: ["Exiled artists from Soviet Unison" exhibition at the Fourth Tokyo Exhibition, Tokyo Metropolitan Art Museum'] / 第4回東京展(東京都美術館)における「ソ連亡命作家展」| 1978
A Video Earth Tokyo work, it is a documentation of the exhibition on exiled Soviet artists, at the Tokyo Metropolitan Art Museum. Part of the footage was provided to the Kangawa television per their request for a daytime tabloid-style news program (September 26, 1978). At the Tokyo Metropolitan Art Museum entrance, Video Earth Tokyo presented an installation of twenty TV monitors. Video Earth Tokyo's membership at the time was roughly thirty people, who were mostly students at the photography school where Nakajima taught.
亡命作家の展覧会の記録とインタビュー。その後、依頼されてテレビ神奈川の昼のワイドショー(1978年9月26日)にも映像素材を提供した。同時に、東京都美術館の入り口で、ビデオアース東京の単発のデモンストレーションとして、20台のテレビモニターによるインスタレーションやパフォーマンスも行った。当時、ビデオアース東京に30名ほどのメンバーがいた。ほとんどが写真学校の学生。
19: [Ackerman Document] / アッカーマン来日ドキュメント
20: [Picture Book Author Tashima Seizo and Shizuka the Goat] / 絵本作家 田島征三と山羊のしずか
21:[China Tour Document of JAA Trip] / 中国訪問の旅 JAA旅行の記録|1979-1981
This is a documentation of a trip to China organized by the Japan Animation Association (JAA). Members in the trip included Osamu Tezuka and Nobuhiro Aihara. The documentation of the 1979 trip is lost. These documentations are not meant to be edited.
日本アニメーション協会が毎年開催していた中国団体ツアーの記録。中島さん自身も協会会員だった。手塚治虫、相原信洋もツアーに参加。1979年の記録は紛失。あえて編集をせず、未編集のままにしてある。
22: [Document of Nosaka Akira Upper House Election] / 野坂昭如参議院選挙の記録|1974
The documentation includes the assembly event held by Shoichi Ozawa at Kinokuniya bookstore, and others. They were shot on 16mm film and video. The sound for the 16mm was not synchronically recorded, but later added asynchronously using an optical recording. Since video was not yet known as a sturdy medium, both film and video were used. This work is not well known because it is lent out only upon request.
依頼ではなく個人の興味から撮影を開始した(野坂本人は撮影を了承)。紀伊国屋での小沢昭一による応援イベントなど。16mmフィルムとビデオの、2種類の映像メディアで撮影。16mmは同録ではなく、後からオプチカル方式で非同期的にサウンドを加えた。フィルムとビデオを併用したのは、当時はまだビデオの信頼性が低かったため。依頼があれば貸し出していただけなので、あまり知られていない。
24: [Takenoko-zoku] / 竹の子族|1980-1981
This is a documentation of the "Takenoko-zoku" or the "Bamboo Shoot Tribe," who did Cossack-style dances in Harajuku. When it was screened at the Video Culture International Festival in Toronto, Laurie Anderson saw it and found it interesting, and asked me to produce a music video for her. Upon returning to Japan, I added the sound and finished the music video. Photography by Michal Goldberg.
原宿でコサック風のダンスを踊っていた「竹の子族」を、数年間かけて撮影。トロントのビデオカルチャー・インターナショナル・フェスティバルで上映したところ、これを観たローリー・アンダーソンが面白がって、ミュージックビデオの制作を依頼された。帰国してから、サウンドを加えてミュージックビデオを完成させた。マイケル・ゴールドバーグが撮影協力。
25: [Rakuda] / 駱駝
This documents the Butoh performances at Rakuda-kan, often following from the performers' preparations in the greenroom. It was lent to Rakuda-kan numerous times. Nakajima has been shooting Man Uno, the former Rakuda-kan Butoh dancer over the years.
舞踏の駱駝館の公演を、控室での準備段階から撮影した作品。駱駝館に何度も貸し出している。この他にも宇野萬という舞踏家をずっと撮影していた。
26:[My Friend] / マイ・フレンド|c.1974
This is a piece features "Chika-chan," a woman Nakajima dated before his marriage. "My Life" series centers on his relationship with his wife, whereas "My Friend" series centers on his friendship with Chika-chan. After Chika-chan married a man named Peter Sato, who was imcarcerated in the Yokohama Prison, Nakajima filmed their visit at the prison.
中島さんが結婚前に付き合っていた女性「チカちゃん」をテーマとした作品。奥さんとの夫婦関係をテーマとしたのが『マイ・ライフ』の系統であり、チカちゃんとの友人関係をテーマとしたのが『マイ・フレンド』の系統となる。チカちゃんは、その後ペーター佐藤と結婚。ペーター佐藤が横浜刑務所に収監された時に、刑務所に面会に行って撮影したシーンもある(刑務官はビデオ機材が何なのか分からなかったので、撮影を行うことができた)。
27: [Train Meal] / 食事電車
28:Have a Seat|1981
A documentation about wheelchar basketball, the piece follows the players from the finals in Japan to the oversees game in Texas. The funding for filming in Texas came from a Japanese association for bicycling. This basketball team had connection to the group that climbed Mount Fuji in Nakajima's video Wheelchair Stands at Fuji.
障害者バスケットボールの試合を撮影。日本での決勝戦からテキサス遠征に至るまでを追う。海外撮影は、競輪振興会から資金提供を受けた。プロデューサーと中島さんの2人で渡米。障害者バスケットボールの団体は、「車椅子富士に立つ」の団体とも繋がりあった。
29: [Issei Miyake] / イッセイ・ミヤケ|1975
30: [Early Work of Video Earth: Izu Shimota CATV / Hokkaido Ikeda CATV] / ビデオアース東京初期:伊豆下田CATV・北海道池田町CATV | Early 1970's
When Keiji Ito, a new member of Video Earth Tokyo, expressed an interest in starting a cable television station in Shimoda, the collective brought in and wired the coaxial cables themselves, and established a local transmission studio, broadcasting live to about 20-30 homes. The contents of the program were community-based guerrilla programs, continuous shot of the clock for time signaling, and other kinds of material. As this was a project for the local community, we did not broadcast any individual work that is experimental in nature. This project became independent in 1978 as Video Earth K2, and continues to operate to this day (Shimoda Cable TV Broadcast Co., Ltd.) We found out later that there was a cable television operation in Ikeda-cho, and covered their story as well.
ビデオアース東京に、下田でケーブルテレビをやりたいという人物(イトウケイジ)が入ってきたので、自分たちで同軸ケーブルを担いで架線し、現地に発信スタジオを構えて、20~30軒の家庭に映像をライブ配信していた。映像の内容は、地域に根ざしたゲリラテレビジョン的なものや、時計を映し続ける時報的なものなど。地域のためのプロジェクトなので、実験的な個人作品は流さないようにした。この事業は、1978年にビデオアースK2として独立し、今も活動している(下田有線テレビ放送株式会社?)。その後、池田町でもケーブルテレビ事業が行われていることを知って、そちらにも取材に行った。
31: [Rolling Coconut] / ローリング・ココナッツ
A document of anti-whaling concert.
捕鯨反対のコンサートの映像。クジラの解体映像から始まる。
32:[Kurohime Yama Picture Book School] / 黒姫山 絵本学校|1970s
This is a footage of Nakajima's lecture at the Picture Book School.
絵本学校での中島さんの講演の映像。
33:[Tsuge Yoshiharu Interview] / つげ義春インタビュー
This is an interview with Yoshiharu Tsuge. Interviewer is Seizo Tajima.
つげ義春のインタビュー映像。撮影は中島さん。インタビュアーは田島征三。
34: [Ono Yoko] / オノ・ヨーコ|1974
This is a documentation of One Step Music Festival in Fukushima.
福島でのワンステップミュージックフェスティバルの映像。撮影は中島さんによるもの。中島さんもプロペラエンジンのインスタレーションを設置した。
35:[Others] / その他
36: [Victor Third Tokyo Video Festival] / ビクター第3回東京ビデオフェスティバル
Critical of the commercially-sponsored video event, Tokyo Video Festival, Nakajima documented the festival as a form of a commentary. In a discussion with a friend at Victor Corporation, Nakajima was the original instigator for the idea of a video festival, but the idea was taken over to become the Tokyo Video Festival. Nakajima's original idea was closer to that of a showcase of cable television.
企業が主体となっている東京ビデオフェスティバルに、中島さんは批判的な立場をとっていたが、それを記録しておこうと考えた。そもそも、ビクターに友人がいたのでビデオフェスティバルの企画を出したが、そのアイデアが盗られて、後に東京ビデオフェスティバルになったという経緯があった。そもそも自分が出したアイデアは、もっとケーブルテレビ寄りのフェスティバルだった。
37: [Under a Tree] / ちょっと木の下で | c.1975
This 16mm film was made during university classes by the members of Video Earth Tokyo. The protagonist is a man crossdressing as a woman, a theme reminiscent of the underground films of the time.
ビデオアース東京メンバーの学生たちが授業のなかで制作した16mm作品。女装した男が主人公の、当時のアンダーグラウンド映画的な内容。
38:ZKM
A documentation of Nakajima's invitation to visit ZKM in which he worked on a collaborative piece with other artists, but because the production took a long time, he left without seeing its completion.
ZKMに招聘された時の記録。ZKMでは、他のアーティストと共に蝋燭を題材としたコラボレーション作品を制作していたが、制作に時間がかかるため、中島さんは完成を見ずに途中帰国した。完成した作品は見ていない。
39: [Nagoya Design Expo] / 名古屋デザイン博
A documentation of the Nagoya Design Expo organized by Katsuhiro Yamaguchi. A piece by Ed Emshwiller is documented among others.
山口勝弘が企画したフェスティバルに、ビデオインスタレーションを出品した際の記録。エド・エムシュウィラーの作品も映っている。
40: [Animaker] / アニメーカー | c.1982
Produced by Michael Goldberg, this is a demonstration video of the "Animaker," a video synthesizer developed by Nakajima and Sony. The Animaker automatically takes frame-by-frame shots and performs effect processing. Mr. Morita, who was the president of Sony at the time, gave money to artists like Nakajima. The Animaker became commercially available and sold about 100 units. After this, shooting frame-by-frame function became common in cameras.
中島さんが考案してソニーが製品化した、コマ撮り撮影とエフェクト加工を自動的に行える機材「アニメーカー」のデモ映像。マイケル・ゴールドバーグが制作。当時の森田社長は、中島さんのようなアーティストにお金を出していた。製品化されて、100台くらい売れた。その後、コマ撮りの機能は他のカメラにも導入されるようになった。
41:[Takeda Seiyaku] / タケダ製薬
42:[Mandara] / マンダラ
43:[Document of Yamashita Kikuji] / 山下菊二ドキュメント
44:Compilation / コンピレーション
2018: Ko Nakajima collection survey